We have classes to fit any schedule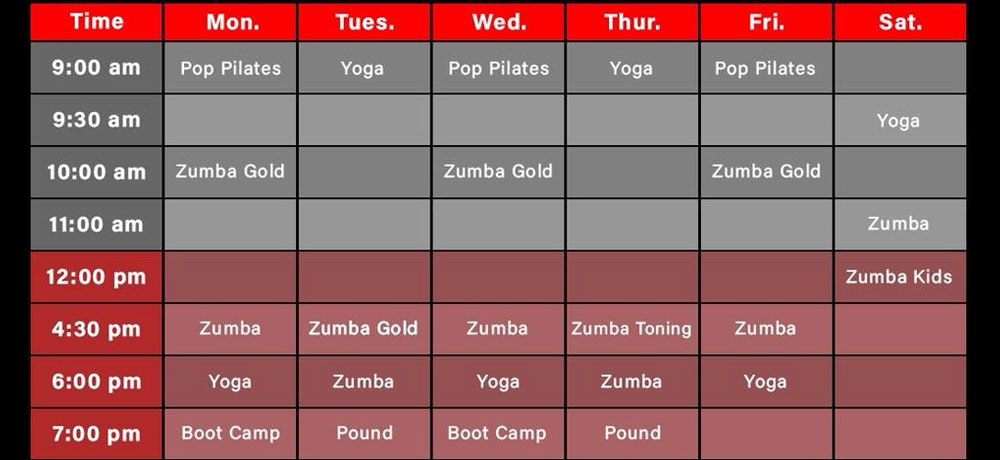 Description of classes:
Zumba – Latin and World rhythm inspired dance fitness party, combining low-intensity & high-intensity moves for an interval style, calorie burning workout.
Zumba Gold – Lower intensity, easy to follow Zumba choreography that focuses on balance, range of motion, and coordination.
Zumba Kids – (4-12 years old) Kid friendly Zumba routines. We break down the steps, add games, activities, and cultural exploration elements.
Zumba Toning – Resistance added by using light weights to target specific muscle groups, including arms, core, and lower body.
Pound – Full body workout with light resistance using Ripstix (weighted drum sticks). Strengthen and sculpt while rocking out and drumming to your favorite music.
Pop Pilates – Mat-based, total body defining moves choreographed to upbeat pop songs, develop a rock-solid core while leaving no muscle untouched.
Yoga –
Mat-based, for all levels including modifications and breath work.
Mind Body - Gentle, Meditative style. Great for restorative purposes and beginners.
Vinyasa Flow - Pose Movements flow smoothly, lots of variety and can be challenging. Sun Power - very similar to Vinyasa Flow, just higher intensity.